Remaining Prepared To Serve the World's Most Demanding Customers.
Continuing Education Results in On-Spec Parts, Faster, Reduced Waste, Delivered On-Time
Tomak's customers require increasingly complicated, intricate parts, produced quickly and at low-cost.
Meeting these challenging needs requires knowledgeable, caring people correctly operating sophisticated technology.
Tomak's commitment to sophisticated technology and to ongoing education means Tomak can meet these stringent requirements.
With an average of 12-years at Tomak, our team members and our collaborative culture ensure each team member is constantly expanding their breadth of expertise in machining, milling, turning, grinding, sawing, welding and drilling.
Tomak's broad and demanding customer base allows team members to produce a wide array of parts in different shapes, sizes, specifications and from different materials.
Team members are also challenged and rewarded to provide innovative insights that improve product quality, manufacturing efficiencies and reduce scrap. Tomak's continuous improvement group, meeting weekly since 2013, has implemented over 500 improvements!
Tomak's continuing investments in the latest manufacturing technologies provides our team members access to new equipment and new production techniques, so our team members continue to broaden and enhance their skills.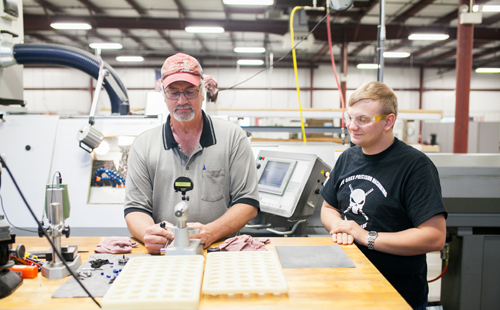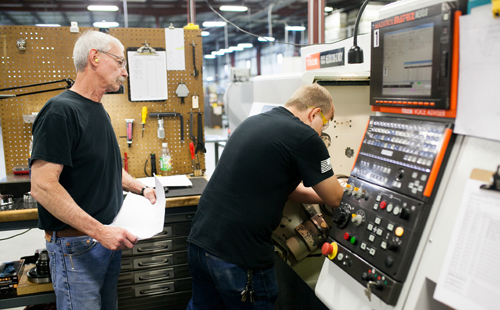 Tomak's Machinists, Lead Technicians and Inspectors Constantly Improve Their Knowledge and Understanding Of:
Geometric Dimensioning and Tolerancing (GD&T)
Training in this system, which system defines and communicates engineering tolerances, tells Tomak's manufacturing staff and machines what degree of accuracy and precision is needed on each controlled-feature of a part.
Statistical Process Control (SPC)
By understanding and using this proven method of quality control, which employs statistical methods to monitor and control a process, Tomak helps ensure its processes operate efficiently, and produce more specification-conforming product with less waste (rework or scrap).
CNC Program Manipulation
Tomak's machinists are consistently being educated about:
Interpret engineering drawings and follow the specifications
Generate a process and program (logical process plan) with a CAD/CAM system
Set-up the tooling, work-holding devices and work-pieces on the CNC milling center
Manipulate cutting-conditions, based on the properties of the material and tooling used
Operate, inspect and maintain the accuracy of dimensions within the specified tolerances
In-House Educational Classes
To keep abreast of the latest technologies, over 75 percent of Tomak's members have attended classes conducted by machine tool builders. And, there is ongoing access to on-line training for all aspects of Tomak's business.
Tomak holds in-house classes conducted by Sinclair Community College and Warren County Career Center faculties.
For courses beyond secondary education, Tomak also offers tuition reimbursement.
Machining more on-spec parts, with increased speed and reduced waste means reduced costs and on-time deliveries.
Our Vision
Our Vision is: "Tomak will be an indispensable, trusted partner to companies who require precise, difficult-to-produce parts where there is zero tolerance for failure."
Mission Statement
"Tomak is a supplier of precision parts to target markets, including the Aerospace and Medical Device markets. We strive to provide our customers with high value by meeting their needs for quality, service and competitive pricing. Recognizing that these needs continually escalate, Tomak is dedicated to ongoing improvement, including opportunities for personal and professional growth. We will meet or exceed our customer's expectations by combining the talent and effort of the people at Tomak with the necessary resources. In the process, all parties involved will be accorded complete respect and all activities will meet the highest levels of integrity."